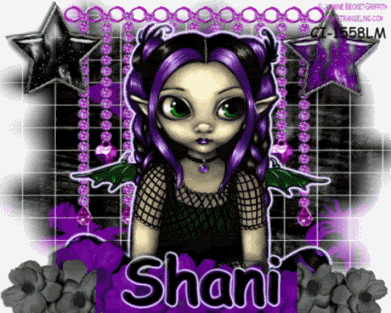 SUPPLIES: Font, Tube, And the mask you can find
HERE
at WSL_Mask84 by Weescottlass....Ptu scrap kit by Wicked Princess called "Gothess"
HERE
..
Open up a 550x550 image background white, copy and paste one of the papers from the scrapkit..go to mask selections load to mask and find the mask 84 hit o.k.
Next open up the purple hanging jewel paste as a new layer.Now look for the purple and black stars.. paste them as new layers.... add a nice dropshadow to them...
Next find your purple flowers and paste them in the front, look at my tag for reference..Now open up the black flowers and paste them as new layer in the front of the tag. Add a nice dropshadow....
Now find a tube copy and paste it as new layer...put a nice dropshadow and place in just beneath the flowers tubes....Add now your font and any copyrights...thats it your done... The blinking stars I could not supply, I dont know who made them..