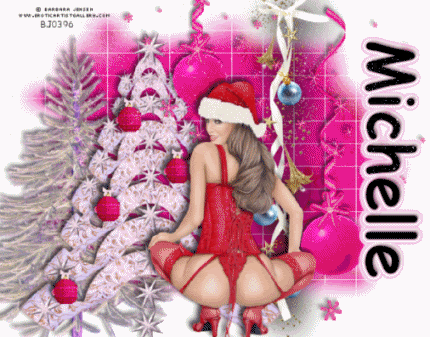 Supplies::Font, Tube and a wonderful Ptu kit called ....Cotton Candy Christmas scrapkit by Michelles Angels
HERE..
The snow animation you can download
HERE
And the mask you can find
Here
at WSL_Mask84 by Weescottlass
Open up your scrapkit, and tube and a pink scrap paper from the scrapkit..Minimize
Open up new image 550x550 background transparent..
Next take your pink background paper from the kit and paste as a new layer..
Next load selections Mask 84 ...
Open up your 2 Christmas tree tubes and copy and paste them as new layer...
Put a small dropshadow on them.
Next open up your pink ball with ribbon... add a dropshadow, copy paste as new layer... refer to my tag for positioning.
Open up your pink Christmas ball resize to 60.. Now duplicate 3-4 times so you have some christmas balls.. Now copy and paste them on your trees...
Next open up your tube and paste as a new layer, add a dropshadow.
Now for the animation..
............Animation ...........
In paint Shop Pro go up to edit merge all, copy open up your animation shop and paste as new image.
Open your snow animation in animation shop.. Now see it has 21 frames.. so duplicate your tag 21 times....
Now click on the first frame of the animated snow.. Go up to select all copy ..
Click on your first frame in your tag... Go up to edit select all, copy paste into frame ...